Mens Apparel Liquidation by the Box Pallet or Truck.

First Quality Men's Apparel
Get amazing high quality Men's Wholesale Clothing from a wide selection of items from major department stores! RS Trading has what you want in a variety of Sizes, Styles and Colors directly from manufacturers.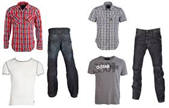 Department Store Closeout Men's Apparel
Call RS Trading today for the best deals from Major Department stores! We have a fine assortment of Men's Wholesale Clothing that will be perfect to provide your customers with an easy shopping selection. Call today!

Closeout Men Jeans
We have the best deals on great loads of a mix of Men's Wholesale Clothing and Jeans! Take your pick from a selection of brands like Levis, Lee, Calvin Klein, Wrangler and more! Contact for availability. Mix assortments may include Suits, Pants, Jackets, Shirts, Blazers, Shorts and more.

Brand Name Overstock Men's Apparel
If you're looking for great deals on all types of loads of closeout and overstock Men's Wholesale Clothing, you've come to the right place! We have great items from major department stores, so step into style with our designer brands that may include Guess, Ralph Lauren, Calvin Klein, Kenneth Cole and more.


High End Men's Overstock Men's Apparel
Get great deals on all kinds of men's apparel loads! Our partnerships with department stores help us distribute an extensive selection of mixed variety Men's Wholesale Clothing pallets of Styles, Sizes and Designs.