Used Cloths Liquidations by the Box, Pallet or Truck.

Great Quality Used Clothing
We have beautiful mixes of designs, styles, colors, and sizes of clothing and accessories. All pallets at Great Deals! Mix of clothing and shoes sold by the lb. Cost to you is as low as $0.30/lbs with minimum purchase. Call for details.

Used Clothes
We have a major selection of mixed Used Clothing available at discounted prices. We have many mix pallets of shirts, pants, shorts, jeans and more of women's, men's, and children's clothing. Bales at 1000 lbs as low as $0.35 per lb. WOW! FOB TX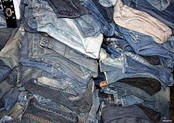 Baled Jeans
Great selection on baled jeans. Bales include name brand and/or no brand jeans by grade. Selection for men, women and children. Your cost is as low as $1.25 per piece. FOB FL

Used Shoes
We have the Best selection of used clothing loads at discounted prices. Selection includes top grade mixture of women's, children, and men's used apparel and shoes at $0.95 a piece with minimum purchase. FOB FL

Bales of Used Clothing
Truck loads of Used Apparel at great prices. We have many different mix pallets of used clothing. Your cost of bales is as low as $1.65 per lb with minimum container order. FOB FL