Mens Apparel Liquidation by the Box Pallet or Truck.

First Quality Men's Apparel
Contact the specialists at RS Trading to get access to our Quality Men's Discount Clothing! Our extensive selection comes in a variety of Sizes, Styles and Colors directly from manufacturers. Each lot includes major brands that are well known worldwide.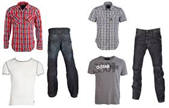 Department Store Closeout Men's Apparel
RS Trading stocks Department store quality Men's Discount Clothing! We partner with major department stores and specialty retailers in order to provide your customers with an extesive shopping selection!

Closeout Men Jeans
Check out are huge loads of all types of Men's Discount Clothing and Jeans! Mixed assortments may include Suits, Pants, Jackets, Shirts, Blazers, Shorts and more, from brands like Levis, Lee, Calvin Klein, Wrangler and others!

Brand Name Overstock Men's Apparel
If you're looking for men's apparel at a great price, we have what you want. RS Trading carries loads of closeout and overstock Men's Discount Clothing from major department stores! Our lots include items from names like Guess, Ralph Lauren, Calvin Klein, Kenneth Cole and more.


High End Men's Overstock Men's Apparel
RS Trading can supply you with men's apparel loads that contain an extensive selection of mixed variety Men's Discount Clothing! Each pallet is filed with different Styles, Sizes and Designs. Call for pricing.